Let's revolutionize the insurance industry together
Does the blend of successful scale-up, family spirit, professionalism and disruption of an entire industry sound irresistible to you? Then you've come to the right place. At Thinksurance, we want to achieve great things – for us, our partners and the industry. That's why we're not just offering you a job. What we have is a place in our unique family.

We are family
We bring out the best in one another. We laugh together, support each other whenever necessary, and are delighted about the positive energy we generate as a team.

We are professionals
We are modest, work hard and adhere to the highest standards. We discuss matters with one another and stand behind the decisions we make.

We lead and we innovate
We are only satisfied with meaningful answers. We drive progress, take calculated risks and transform big ideas into innovative products and forward-looking growth.

We create long-lasting value for our partners
We solve problems and create something that is worth being created. We cultivate honest relationships with our partners and our work is focused on their success.

We are bold and hungry
We think big. We work passionately for our success, which we achieve with an open-minded approach to new ideas, a preference for taking action and an entrepreneurial spirit.
Take a look behind the scenes
Contact us on WhatsApp
You can easily contact our recruiting team via a short message on WhatsApp Business: Whether you just want to talk informally about us as a company, find out more about our open positions or apply directly.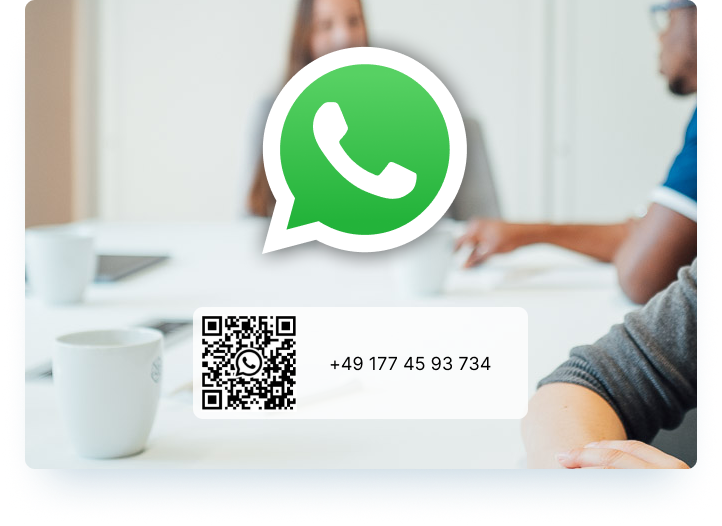 "What I particularly like about my job is the variety of topics I deal with. None of our insurance partners are the same and this is reflected in the way we work together."
Fabienne Pittner
Senior Insurer Relations Manager
"I wanted to make some changes in my life and join a company that is listening to people and open to new suggestions, ideas, or improvements. I am in the right company."
Dragan Lalos
System Architect
"I enjoy the positive effect my job has on society as a whole. Our robust platform takes the insurance industry to new heights using technology."
Joseph Davis
Backend Developer
"I like the actively embraced family spirit, the cooperation with all employees across the organization and the solidarity."
Pascal Baumann
Teamlead IT Administration
"We're changing the insurance market: I find getting partners enthusiastic about our platform to be particularly motivating."
Damir Mitrovic
Expert Strategic Partner Management
"We actually create innovation and walk the walk, instead of just talking about it. We are an incredible team with a "can-do" attitude."
Muhammet Gündogdu
Product Owner Insurance
"The agility across departments, the commitment of every individual and the friendly atmosphere create an extremely pleasant and productive working environment."
Sebastian Gerk
Teamlead Product Management
"It is not always easy to reconcile family and career. At Thinksurance I have a lot of freedom to organize my working hours flexibly and at the same time can make a difference."
Rebecca Beranek
UX/UI Researcher
"The familial atmosphere at Thinksurance is unique. I'm not only embraced and appreciated at the personal level, but value is also placed on both my professional and personal development."
Thorsten Hahn
Senior Product Manager
"What´s unique about Thinksurance are its people: great minds striving to innovate, delivering high quality, executing fast and having fun! This is very fulfilling to me and a great pleasure every day that I go to work."
Mathias Berg
Chief Insurance Officer
Your path to joining the Thinksurance family
Application sent successfully? What happens next:
We will review your application and get back to you as soon as possible.
If it's a match, we'll get to know each other in an initial interview.
If the chemistry is right, you can get to know us and your potential colleagues even better in a second interview.
If we're right for each other, things happen very quickly: You'll receive your offer, sign your contract and join the Thinksurance family in the space of just a few weeks.
When you get started, you can look forward to a structured onboarding process across all departments. So you're well prepared to hit the ground running.
You decide your own career development. We'll help you!
Depending on your experience level, you can join us as a junior, mid-level or senior employee. With us, you have the opportunity to choose a path towards becoming a leader or a specialist – wherever you want to develop your potential. We support you along every step of the way by providing you with a variety of offers and promote your personal and professional development. But that's not a must: It's your career and it's your wishes.