Data Suite
Know your data treasure
We make data from commercial and industrial insurance usable so that the entire sector benefits.
Book a demo
Book a demo
Develop your insurance business in a digital and forward-looking future
Data Suite for Insurer
Keeping track of your business with the Data Dashboard
We analyse data using advanced analytics methods. The analytical results, presented in data dashboards, provide unique insights for optimising sales and operational processes as well as for product development.
Product optimisation and controlling
Optimise your product development with the help of data analysis
Product market fit, visibility or pricing: with the help of our data analyses, we support you in the continuous optimisation of your products and the improvement of your performance, such as the speed of feedback on tenders. This way, we help you to anticipate market needs in a more targeted way and improve your sales results.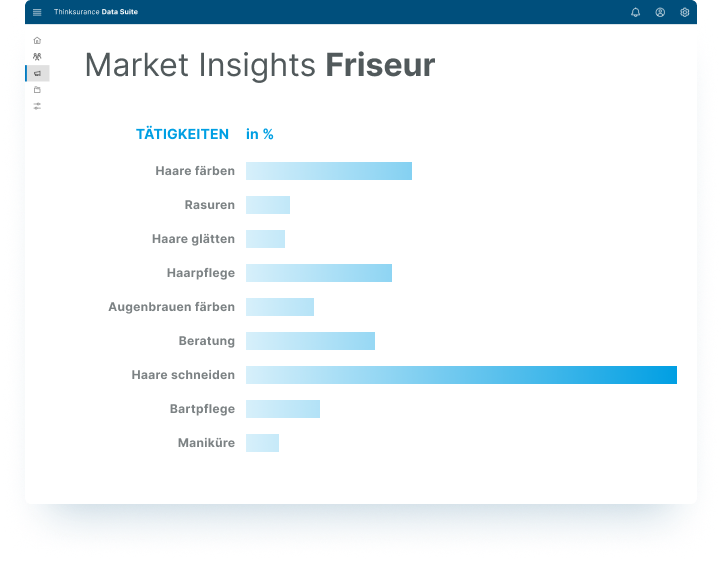 API InsurConnect®
advanced data analysis
Do you want to work with data itself in addition to using dashboards? We enable the delivery of raw data on requests and aggregated market data via API for your own analysis in your company. This means that the entire process – from enquiry to deal – can be displayed in this way. Want to find out if you've been approached and how competitive the price is? The advanced data analysis via API allows you to actively manage your prices.
Tailored market analyses
Do you want to optimise your product or even develop a new tariff? The Benchmark Report will help you to get the best out of it. The report includes price data for up to 3,000 individual risk profiles. You can take advantage of this unique market overview.