Advisory Suite
Your passion for advisory services meets our innovative technology
Time to concentrate on the most important thing: client advisory services. We can help you by thinking about your commercial and industrial business holistically and digitally.
Schedule a consultation
Tens of thousands of brokers are already advising clients with the help of the Advisory Suite





Needs analysis & risk assessment
Save time with smart needs analyses and dynamic risk assessment
Provide your client with a recommendation on their individual coverage requirements in just a few clicks. The smart needs analysis identifies the underlying risk based on more than one million client inquiries. Smart questionnaires for 65 product lines, 2,000 occupations and 20 industry branches save you valuable time when performing risk assessments because each questionnaire is individually tailored to your inquiry.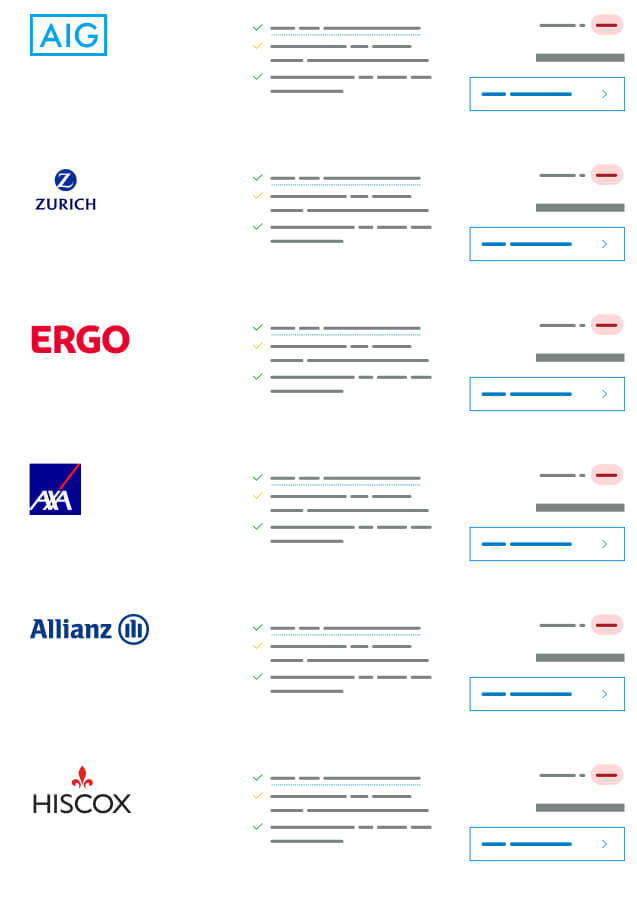 Rate calculator
Find the best rates on the market in real time
The Advisory Suite includes more than 1,100 rates. That provides you with an overview at the click of a mouse while your clients benefit from comprehensive market transparency. The structured overviews of premiums and rate parameters help you and your client to make more informed decisions.
Receive tailor-made offers in record time
Your clients are just as individual as their risks. That's why our smart and award-winning tender platform ensures that you find the right insurers for your clients' risks and receive a qualified offer. This reduces the number of inquiries required and ensures a smooth process.
Tender: Commercial content

Insured amount: 3.2 Mio. €

Premium:

Insured amount: 3.2 Mio. €

Premium:

Insured amount: 3.2 Mio. €

Premium:

Insured amount: 3.2 Mio. €
Comparison of terms and conditions
Benefit from the most comprehensive comparison on the market
Find rates that are impressive, even at second glance. Whether it's a rate calculator or a tender platform, our comparison of terms and conditions gives you a simple yet informative overview of 1,700 analyzed rate parameters that is impressively efficient.
Other features at a glance
Sales Center
Client letters, call guides and information brochures: we help you by providing comprehensive sales materials, in-depth knowledge of the sector and clear examples of claims that you can use when talking to clients. This not only benefits newcomers, but experienced professionals, as well.
Policies, offers, reports: We seamlessly document all stages of the advisory process, from the needs analysis to the coverage order. And best of all, all documentation can be accessed at any time and from anywhere.
Client and contract management
Benefit from a structured client management system
Automated processes make client management simpler and more detailed than ever before: Interfaces to all relevant broker management programs ensure that your clients' master data and contracts are always up to date and can be used in full to provide advisory services. We offer the most comprehensive risk analysis available to you at any time for future client consultations, renewals and annual questionnaires.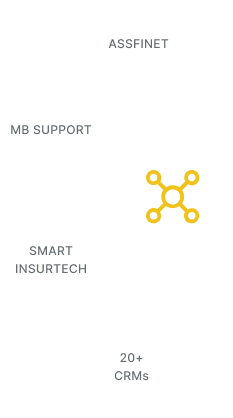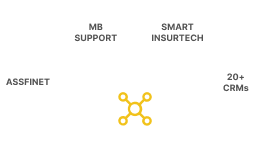 Other features at a glance
Portfolio analysis
Analyze your entire portfolio and identify coverage gaps, coverage potential and advisory needs more easily and smarter than ever before.
Make your success measurable: Dashboards that provide you with all relevant sales information allow you to make data-driven decisions that take your business and advisory services to the next level.
Integrate your own advisory journey into your homepage
Offer your clients the best insurance coverage available in a familiar environment. The individually tailored advisory journeys on your homepage make it easier for your clients to access your insurance coverage. That boosts satisfaction and has a positive impact on client loyalty.
Other features at a glance
White-Label
All elements of our Advisory Suite are available as a white label solution. The result? You can use your own design and logo – also as an exclusive organization.
Individual configuration
Whether you need your own special concept, agency numbers, personal underwriting contacts, special discounts or the involvement of your back office, you can actively manage all settings and make sure your Advisory Suite meets your needs.
Interface
Seamless integration into your existing systems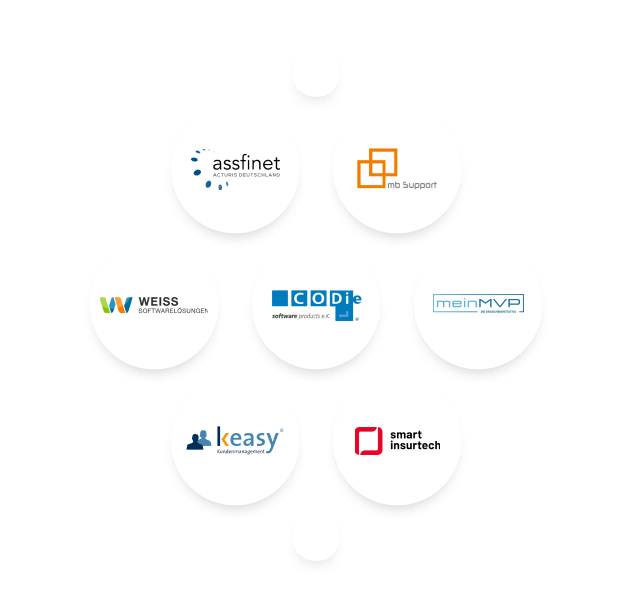 What partners say about us
Succesful Partnership
Thinksurance is our partner in the digitalization of consulting for our industrial customers. Professional expertise, innovative technology and extensive connection to our MVP are the decisive combination for our successful partnership.
Andreas Zelmer
Member of the Executive Board & Head of Sales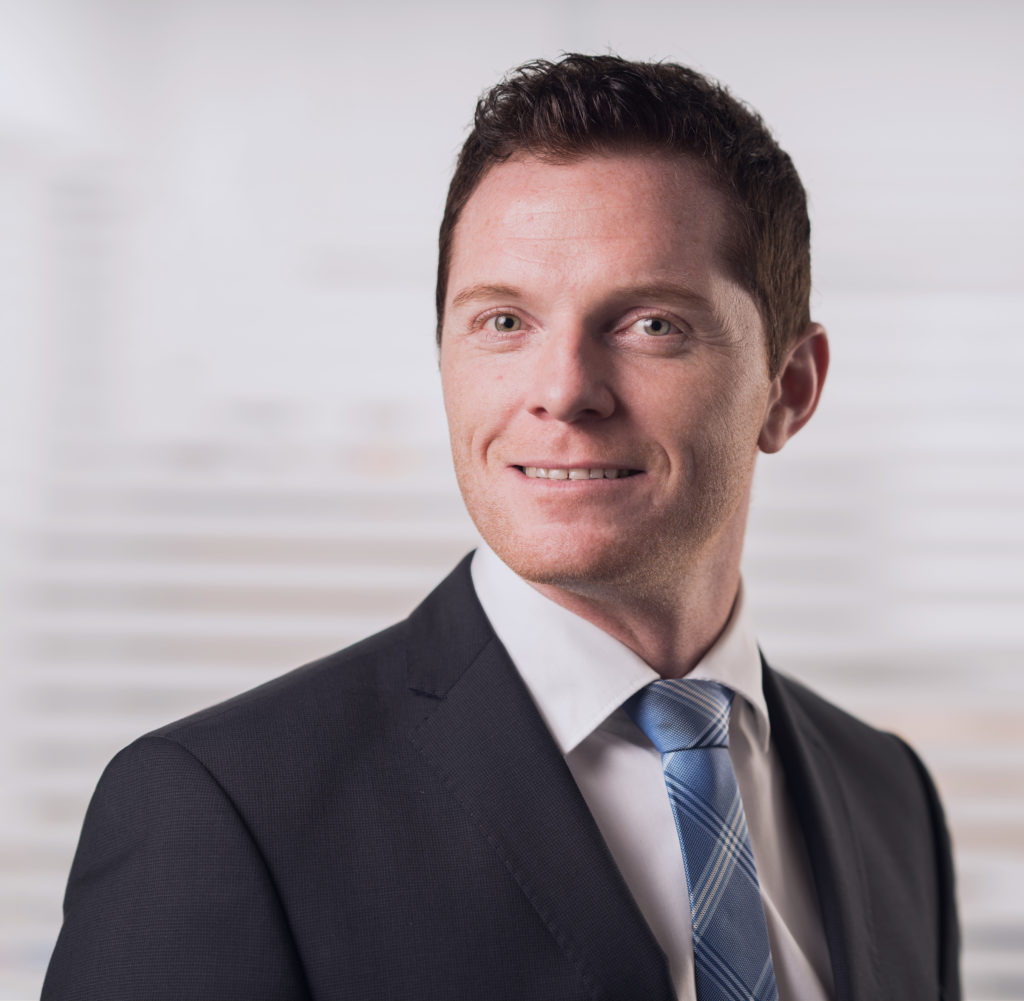 Handle customer inquiries efficiently
The number of our customer inquiries has increased noticeably in recent years, but with Thinksurance we now process them more efficiently than ever. The intelligent questionnaires save time in risk recording, as our intermediaries only need to enter the relevant information.
Christine Schönteich
Member of the Executive Board