Thinksurance for digital business models
Do your clients include tradespeople and self-employed persons? We support you with the latest technology and our rating, quotation and application routes. Digital commercial insurance has never been so intuitive, transparent and simple.
Schedule a consultation
Thinksurance is already working with these partners




Leverage previously unused sales potential
Client-focused advisory processes
Broker commercial insurance with the simplicity of an online shop
We are providing a new advisory process in the insurance industry. Rather than developing contract conclusion routes for individual insurance products, we focus on the protagonists of the industry: the policyholders. A shopping cart for insurance, intuitive digital processes and data analytics enables an advisory experience fit for the digital age.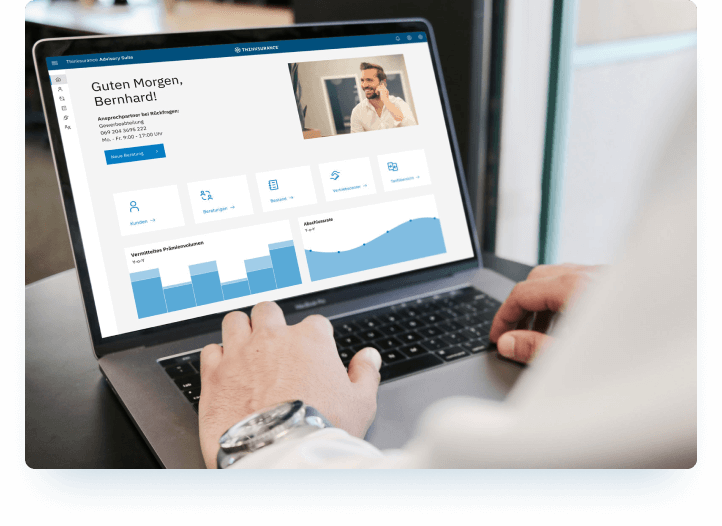 Direct contracts or tender
Fast and efficient client advice through automated processes
Fast and tailored quotations are guarantees for success when it comes to client advice. It is possible to conclude contracts directly for all risk situations via our application—completely digital, with a clear reduction in manual labor. Leaving you more time for your online marketing.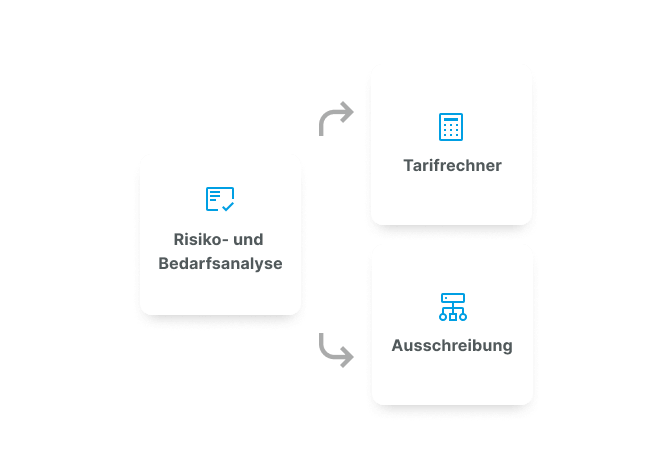 Technology
Use our application in your environment
With the help of Snippets and White Label solutions, it is easy to embed our application in your website in the environment familiar to your clients. We simplify your sales processes by specifically directing the target client to the area applicable to them. Thanks to our API, you can also design the front end yourself. For you, this means more time for advising your clients through flexible solutions that support sales activities.
What our partners say about us
"We have integrated Thinksurance's advisory processes directly on our homepage for our insurance customers. The simple but professionally structured process gives our customers full transparency and allows them to make self-determined decisions. We can fully concentrate on customer consulting due to the efficiency gain."
Mario Müller, Managing Director
transparent beraten
"You might think at first: Thinksurance and Finanzchecks – aren't they competitors? Quite the opposite: We are partners and have been able to expand and flexibly supplement our product range with Thinksurance technology and applications such as the rate calculator."
Martin Butters, CEO
Finanzchecks
"When it came to commercial insurance, we initially used the rate calculators of the respective companies. Today, we use Thinksurance's expertise in the commercial sector, thereby reducing the complexity of requirements in this market segment."
Marco Adelt, Co-Founder & Managing Director
Clark