Thinksurance for pools, distributors & networks
Whether you are a business expert or a newcomer: with our Advisory Suite, we support you in all processes related to insurance advisory services for your brokers. You reduce your manual labor by up to 80% and improve your performance and efficiency.
Schedule a consultation
Thinksurance is already working with these partners




Grow together with your brokers through commercial insurance
The solution that really supports your brokers in their work
The Advisory Suite supports your brokers at every step of the advisory process—completely digitally, intuitively and efficiently. In this way, you create the perfect conditions for successful sales. And you, your brokers and their clients all benefit.



Needs analysis & risk assessment
Individual client advice for every risk
The Advisory Suite helps you support your brokers and provide them with ideal client advice. The intelligent needs analysis and risk assessment and the detailed comparison of conditions help to find the best solution transparently and objectively in just a few steps.
Ideal cover for simple risks and those subject to tender
Whether through extensive comparison calculators with over 500 integrated rates or with assistance from our digital tendering platform. Our Advisory Suite provides your brokers with individual advice, tailored to respective client needs—regardless of the complexity of the risk.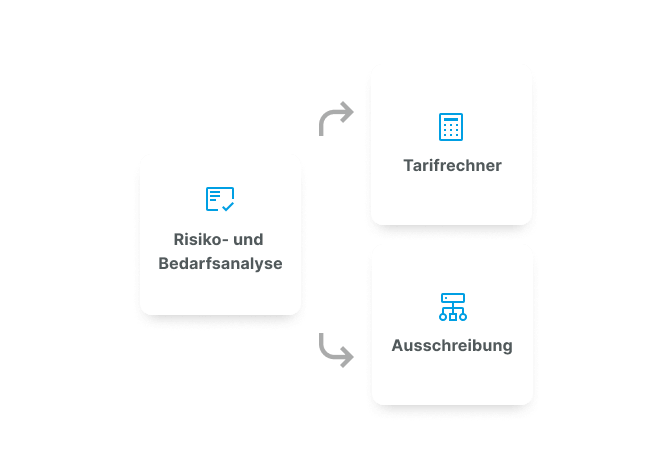 Everything at a glance thanks to interfaces and digital client file
Transfer data and store it centrally: the interface to your MVP collates all documents into one digital client file. As such, your broker can access the most important documents, digitally manage contracts and optimize your advisory services in the commercial business—all from a single source.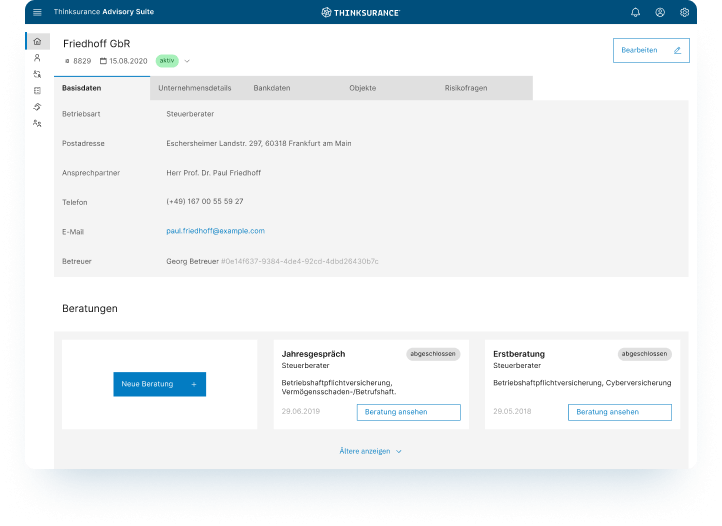 Special concepts
Individualize your quotations
Adapt the Advisory Suite to your brokers' requirements: whether an individual design or placing their own special concepts—you decide.
Controlling & performance
You maintain an overview of all of your activities
Whether back office activities or choosing the right insurer: the Advisory Suite's Sales Dashboard helps to keep an overview of the key figures relating to tenders and analyze insurer performance. You maintain an overview and can continuously track all of the activities of your brokers and improve them accordingly.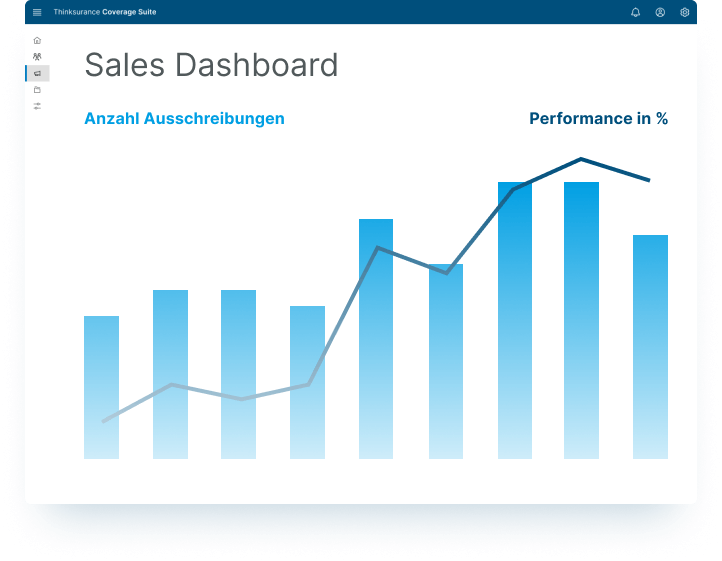 Was Partner über uns sagen
"The number of our customer inquiries has increased noticeably over the past few years, but with Thinksurance we now process them more efficiently than ever. The intelligent questionnaires save time in risk recording, as our intermediaries only need to enter the relevant information."
Christine Schönteich, Member of the Executive Board
Fonds Finanz Maklerservice GmbH
"Als Pool und Assekuradeur sind die digitalen Prozesse von Thinksurance nicht mehr wegzudenken. Die Lösung hat sich seit unserer langjährigen Partnerschaft beständig weiterentwickelt und das mit stets steigender Innovationsgeschwindigkeit und Qualität. Gemeinsam mit Thinksurance leisten wir so wertvolle Pionierarbeit."
Hartmut Goebel, Executive Board
germanBroker.net
"Since the collaboration, we have been able to increase our premium volume in commercial insurance many times over. Not only the innovative technology, but also Thinksurance's technically outstanding back-office performance has been decisive in this."
Harry Kreis, Executive Board
Apella AG