Rethink digital insurance consulting
Thinksurance's Advisory Suite connects insurers and broker agents. It is your digital omnichannel solution for sustainable insurance sales. Discover new sales potentials the digital way.
Our solution for insurers
More than 110 insurers and actuaries work with us at Thinksurance





Advisory Suite for Tied Agents
Take your tied agent sales to the next level
The Advisory Suite offers your tied agent organisation a holistic advisory and sales platform: This is how we ensure efficient processes, support, advice and sales on a digital track.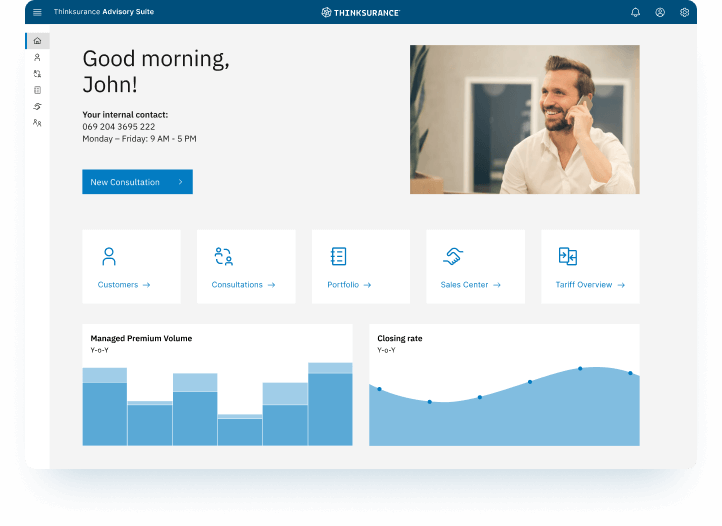 Direct sales
Increase your sales potential through digital processes
With Consult Direct, you digitise your consulting routes in a chosen environment according to your needs. Whether B2C or B2B, you benefit from faster processes and higher closing rates in your individual design.
Product Optimisation & Controlling
Optimise your product development with data analytics
Whether product market fit, visibility or pricing: with the help of our data analyses, we support you in the continuous product optimisation and improvement of your performance, such as the speed of responses to tenders. In this way, we help you to anticipate market needs in an even more targeted manner and to adapt your insurance products in a flexible and optimised way.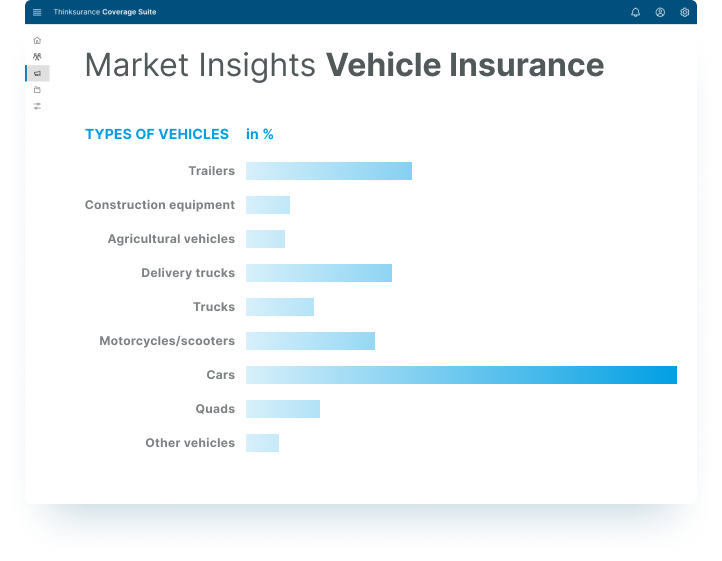 What our partners say about us
"With Thinksurance, we are advancing data-driven product development. The market analytics and the industry insights we gain are incredibly valuable to us. They enable us to understand demand very precisely and know what our customers' needs are."
Peter Koßmann, Head of Brokers and Property/Casualty Cooperation
ERGO Group AG
"We benefit in many ways from working with Thinksurance: We integrate our own tariffs easily and quickly. Our partners also use the Thinksurance platform. We gain insights from two sides of the same coin – and generate valuable synergies for our business."
Jan Roß, Head of Broker Sales
Zurich
"We offer corporate customers holistic solutions across all relevant areas of need. This is exactly why we also rely on Thinksurance in the commercial sector, which supports us perfectly in a digital consulting process. We are also represented on the tendering platform with our brands R+V, KRAVAG and Condor. Due to the efficient processes, we answer an average of 68% of inquiries within 24 hours and more than 82% within 48 hours. Thanks to the fast processing, we improve the customer experience enormously."
Dietmar Schöne, Broker Sales Directorate
R+V